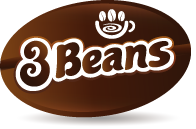 Key Differentiators
Capsule Concept
High-end Technology
Extensive R&D
Why Use 3Bean Capsule Technology?
Coffee capsules eliminate many of the problems associated with coffee beans and coffee powder in home coffee machines and office coffee environment. The basis of good coffee is good espresso and the benchmark is Italian espresso. To enjoy a good coffee, the beans must be subtly roasted, properly ground and consistently blended. But all the efforts are lost with storage as coffee tends to lose its aroma, feel, after-taste and balance within a week. Further, if coffee beans are used, the resultant sludge is messy and provides disposal problems as well.
3Beans Capsule technologies is the answer to these complex problems. The coffee is roasted and vacuum packed so that it stays fresh all the time. Common miscreants like moisture and oxidation are thus eliminated from spoiling the texture and taste. Tamper proof packs ensure that no manipulations are possible along the supply chain. Industrial grinders are used and our rigid quality standards in blending ensure each capsule carries the unique flavour sealed for its lifetime. Further, coffee grounds also stay in the capsule solving disposal problems as well.
3Beans thus guarantees you a unique feel and out of the world beverage experience any moment every day.
Further for small offices and homes, 3Beans capsule technology is the cost effective way to enjoy the best experience without any compromise on quality or taste.
Technology
We adopt the latest technology and manufacturing processes in the industry. Each of our 3Beans dispensing machines is a work of art perfected to guarantee you a rich Italian espresso experience every time. We have a variety of automatic and semi-automatic machines. Ergonomics, cost effectiveness and value for money characterize each of our products.
Our blending process for the different varieties of coffee are world class. We are pioneers in the use of capsule based technology in India. We adhere to the latest international quality standards when we source agricultural produce straight from plantations to ensure we always stand out from the crowd. Our extensive market research and continuous customer feedback process ensures that we guarantee the satisfaction of your every whim.
Research and Development (R&D)
All our 3Beans dispensing machines have been developed with Italian expertise and thus there is no compromise on quality or aesthetics. Their ability to deliver a wide variety of beverages, quick start up, innovative and ergonomic design and excellent performance under all conditions has won us deep market appreciation.
The different capsule flavours and coffee blends we offer are a result of continuous research to ensure that you enjoy an enriching experience every time. With exclusive in-house tasters and our unique blending ratios, we are a cut above the rest. Our painstaking selection of premium natural products coupled with manufacturing policies of the highest standards ensures that every cup carries a unique taste and prime quality to suit your class and stature.